Film, TV and Commercial Photographic Work
Please contact us for further information and rates for film, TV and commercial photographic work.
Click here for our contact details.
Over the years our cars have appeared in TV period dramas, films and even in Eastenders.
Below are details of some of the recent appearances
Legend – 2015 Film about the Kray Twins
Starring Tom Hardy (twice – he plays both Ronnie and Reggie Kray). Based on the true story of London's most famous gangsters – the Kray twins. This film made use of two of our cars.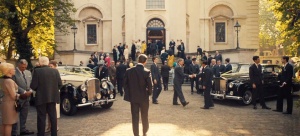 For further information about this film see: The Internet Movie Database: Legend (2015)
The Wedding Video (2012)
Released in the UK on the 17th August 2012, The Wedding Video, features two of our cars. Charles and Walter (a car which we no longer own) make a special appearance in third to eighth second of the official trailer – see below: